PROPOSAL SUBMISSIONS ARE NOW CLOSED
COME PRESENT AT OUR 2021 CONFERENCE
The National ESEA Conference is the only conference focused entirely on federal education programs for disadvantaged students. The Conference emphasizes the critical nature of doing what's right and what's needed today - to help every child succeed and achieve at high levels.

The 2021 National ESEA Conference Planning Committee invites all education experts, researchers, authors, and successful practitioners with information of interest to the ESEA audience to submit a presentation proposal. If that sounds like you and you want to learn more, download the Proposal Submission Guide.
PROMOTIONAL CONTENT?
Do you work for or own a company that provides services or products that address our audience? We welcome you to come present with us! We have Promotional Sessions that allow you to talk about your services/products during your session, unlike our standard sessions which must be commercial content free. We encourage you to explore the Exhibitor Page to see if you would want to exhibit and have a steady presence at the conference.

You can also find more information here: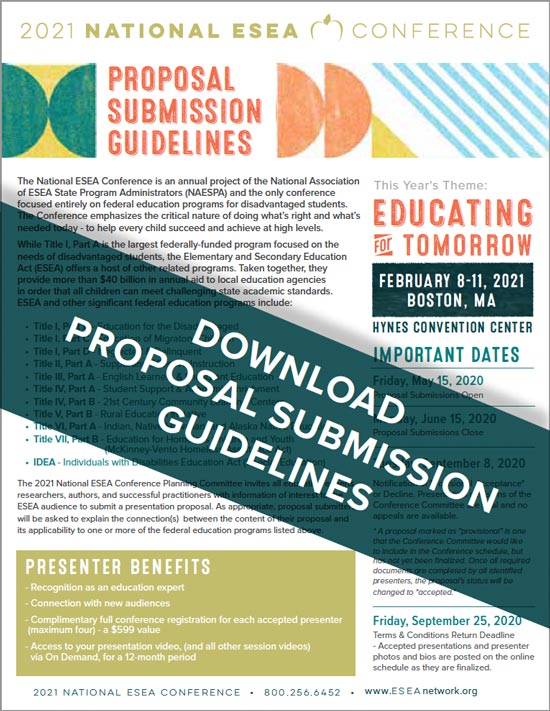 The Proposal Guidelines outline everything you need to know about presenting at the 2021 National ESEA Conference. Download it now!
PHOTOS FROM THE 2020 NATIONAL ESEA CONFERENCE