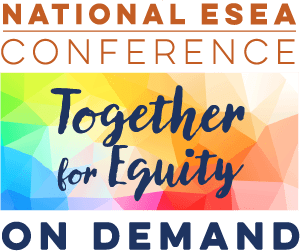 2020 National ESEA Conference On Demand is the same subscription as Video On Demand. It is a user-friendly way to navigate through and filter the sessions presented in February using the conference online schedule.
Video On Demand offers professional development opportunities for federal education program practitioners at all levels, without ever having to step outside. Each premium subscription gives you access - on your own schedule - to an entire series of high quality professional videos to motivate and inform your staff about the latest Title I and related issues.

The majority of content for On Demand comes from sessions recorded at annual National Title I and National ESEA Conferences. All videos are available in high quality HD format and many include downloadable handouts (when provided by the speaker). Sessions recorded at national conferences will be available for approximately one year. Other media is added periodically, including a limited amount of free content, available to anyone with a user account on this website.

On Demand videos may be viewed by the subscriber at any time, from any computer with a high speed internet connection. While you are encouraged to share videos with your colleagues by connecting your computer to a projector, none of the On Demand content may be used in any commercial or paid-entry situation.