Congratulations, Presenters!

Purpose
The overall focus is unchanged—federal education programs serving disadvantaged students. The aim of the 2024 National ESEA Conference is to help every child succeed and achieve at high levels.
Presenter Terms & Conditions
The session review process is complete and presentations have been selected. On August 28, notifications (either accepted or declined) were sent to all potential presenters/submitters via email. Terms and Conditions were issued to all selected speakers. Once all presenters on the session have electronically signed the Terms and Conditions, your session status will be changed from "provisional" to "accepted," and your session and presenter details will be published on the online conference schedule.
Hybrid Conference Session Formats
The 2024 National ESEA Conference is a hybrid event and we're pleased to offer presenters opportunities to present either in-person or remotely. To ensure presentations are of the highest quality, the majority of sessions selected will require presenters to travel to Portland to speak before a live, in-person audience. All sessions will be recorded and later made available to all audiences, with many sessions live-streamed to the virtual audience.
Join Us in 2025
Proposals for presentations at the 2024 National ESEA Conference in Portland, OR and online, were open May 1 - June 16, 2023. Submissions are now closed. If you missed the deadline, please consider applying to present at the 2025 National ESEA Conference, which will take place in Austin, Texas and online. Proposals for the 2025 Conference will be accepted beginning in spring 2024.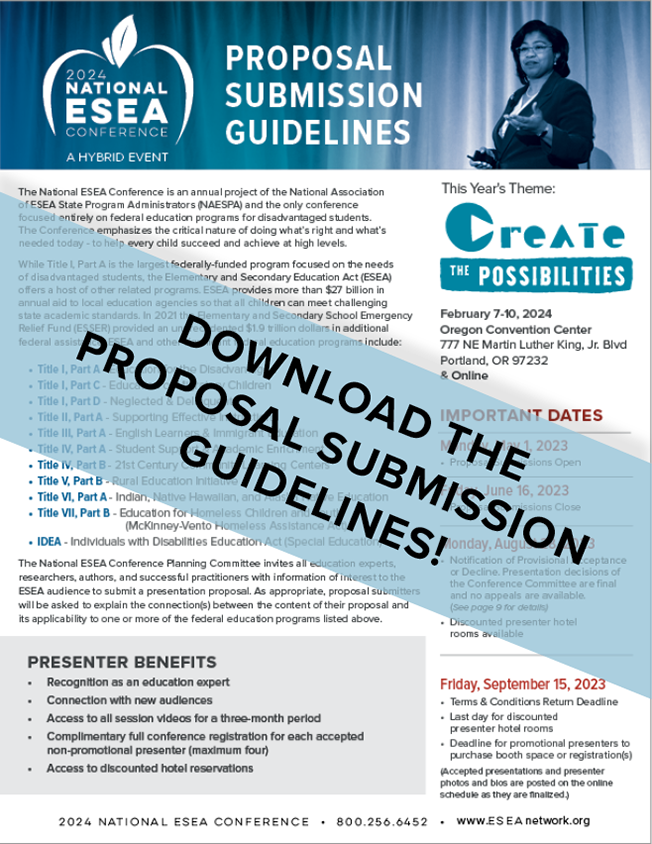 The Proposal Guidelines outline everything you need to know about presenting at the 2024 National ESEA Conference. Download it now!