PROPOSAL SUBMISSIONS ARE CLOSED


WELCOME PRESENTERS
The 2022 National ESEA Conference Planning Committee has completed their review of session proposals and made their final selections. Notifications were emailed to all proposal submitters on September 8, with further presentation details. We look forward to seeing you in February! The official session schedule is updated daily and will include over 140 breakout sessions and five keynote presentations.
SHARE YOUR EXPERTISE IN NEW ORLEANS AND BEYOND
After a one-year hiatus fully immersed in the development and implementation of a virtual conference, the 2022 National ESEA Conference will re-emerge as a hybrid (in-person and virtual) event in the great city of New Orleans. The overall focus is unchanged—federal education programs serving disadvantaged students. The aim is to help every educator, help every child succeed and achieve at high levels.
MISSED THE DEADLINE? DID NOT GET SELECTED?
If you missed the June 14 deadline for submitting proposals, or if your proposal was not selected, we encourage you to try again for 2023. We cannot thank you enough for your interest and commitment to the betterment of the education community. The Conference Planning Committee was responsible for grading and selecting from over 500 proposals submitted for 2022. Along with the volume of proposals submitted and the finite capacity of the Conference schedule, the Committee had the important task of ensuring a balance and variety of content for attendees. That said, even high-scoring proposals on certain topics may not have been selected. We encourage all individuals who have timely information or success stories to share - to submit proposals for Indianapolis.


SAVE THE DATE
Please mark your calendar now for the 2023 National ESEA Conference, Indianapolis, IN, February 1-4, 2023. Proposals submissions will open in Spring 2022. Your voice matters. We wholeheartedly encourage you to submit a proposal and hope you will extend invitations to colleagues.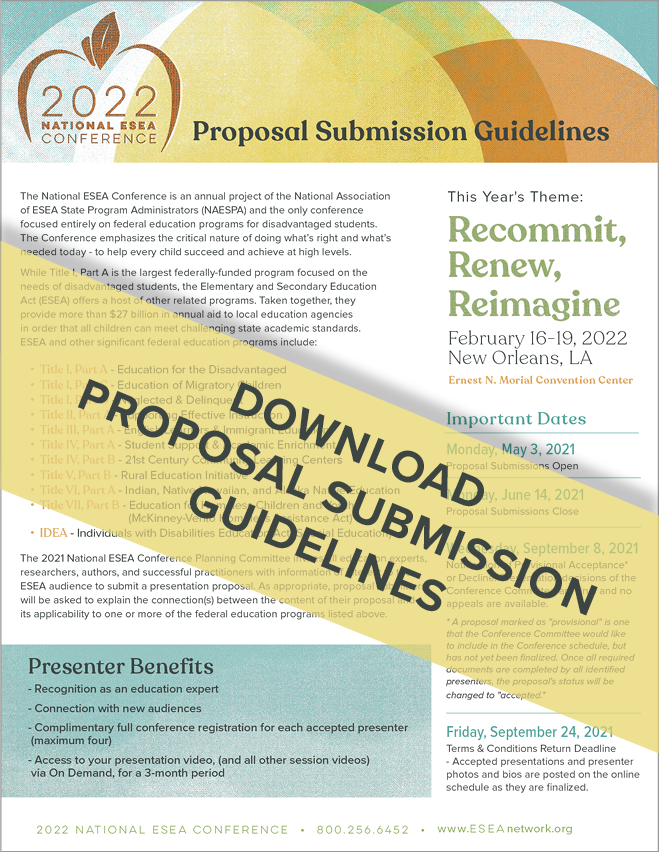 The Proposal Guidelines outline everything you need to know about presenting at the 2022 National ESEA Conference. Download it now!
PHOTOS FROM PREVIOUS NATIONAL ESEA CONFERENCES