PROPOSAL SUBMISSIONS ARE CLOSED


SHARE YOUR EXPERTISE IN NEW ORLEANS
After a one-year hiatus fully immersed in the development and delivery of a virtual conference, the 2022 National ESEA Conference will re-emerge as an in-person event in the great city of New Orleans. The overall focus is unchanged—federal education programs serving disadvantaged students. The aim is to help every child succeed and achieve at high levels.
YOU'RE INVITED
2022 National ESEA Conference Planning Committee invites all education experts, researchers, authors, and successful practitioners with information of interest to the ESEA audience to submit a presentation proposal. Attendees from across the country are seeking research-based strategies, best practices, and new concepts to implement at their school, district, and state levels. If you have a success story to tell or pertinent information to share - we want to hear from you!

Proposals were accepted May 3 through June 14, 2021.
Sorry, late proposals cannot be accepted.


LESSONS LEARNED FROM THE PANDEMIC
This year, we are particularly interested in learning about what educational benefits can be derived from the unexpected struggles of COVID-19. Among other timely topics, individuals are encouraged to share successful strategies borne out of necessity—learning remotely or in hybrid models, mitigating the magnified digital divide, engaging parents and families, meeting the needs of English learners and students with disabilities, addressing learning loss—all in unforeseen circumstances. How will we ensure student equity and access as we enter a post-pandemic world?


PROMOTIONAL CONTENT?
Do you work for or own a company that provides services or products that address our audience? We welcome you to come present with us! We have Promotional Sessions that allow you to talk about your services/products during your session, unlike our standard sessions which must be commercial content free. We encourage you to explore the Exhibitor page to see if you would want to exhibit and have a steady presence at the conference. Please refer to the Presenter Policies page for further details.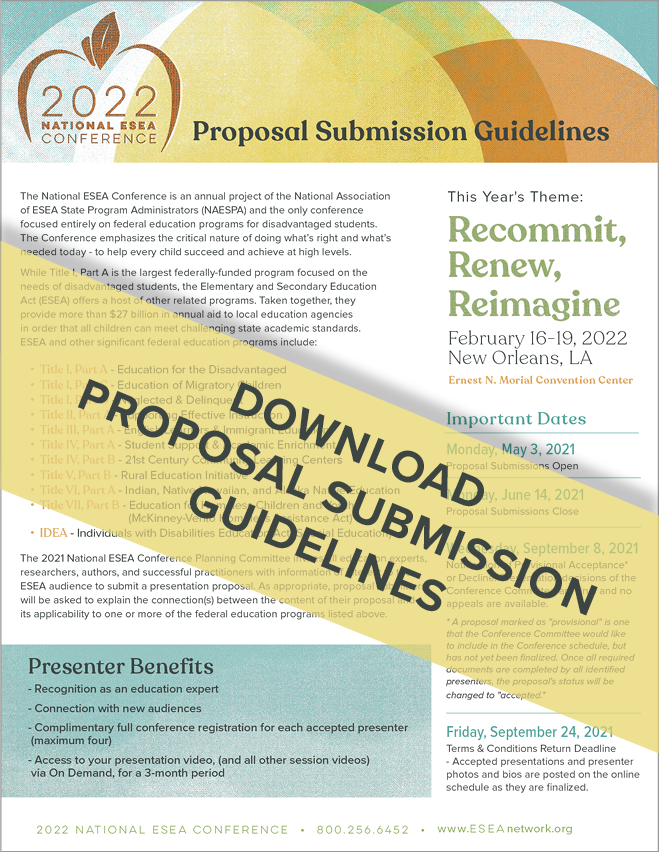 The Proposal Guidelines outline everything you need to know about presenting at the 2022 National ESEA Conference. Download it now!
PHOTOS FROM PREVIOUS NATIONAL ESEA CONFERENCES