Exhibit Booth Sales Are Open!
The annual National ESEA Conference is the largest event of its kind catering to federal education programs specialists from around the nation. It is one of the few conferences where exhibitors can connect with state and local leaders with purchasing power.
2022 NATIONAL ESEA CONFERENCE
Recommit, Renew, Reimagine
Join us in New Orleans for the 2022 National ESEA Conference! Scheduled for February 16 - 19 at the Ernest N. Morial Convention Center, we are excited to return to an in-person event!
Dedicated Exhibit Hall Hours & Promotional Sessions
The 2022 National ESEA Conference will be a four-day event, with the Exhibit Hall featured on the two middle days. The Conference schedule allows for plenty of time for attendees to interact with our exhibiting partners. The Exhibit Hall will be open for a total of six hours on both days, with two separate blocks of dedicated Exhibit Hall time each of those days. Promotional sessions are exclusively held during dedicated Exhibit Hall times.
Hybrid Exhibit Hall
We are thrilled to announce that we will be incorporating virtual components to create our first HYBRID Exhibit Hall. Virtual exhibit booths will complement in-person exhibits in New Orleans, and all in-person exhibiting organizations will automatically receive the virtual exhibit booth add-on free of charge ($1500 value).
BOOTH SALES
Booth Sales are now open to all returning and new exhibitors. Please see our Live Booth Map below to view the 2022 National ESEA Conference Exhibit Hall.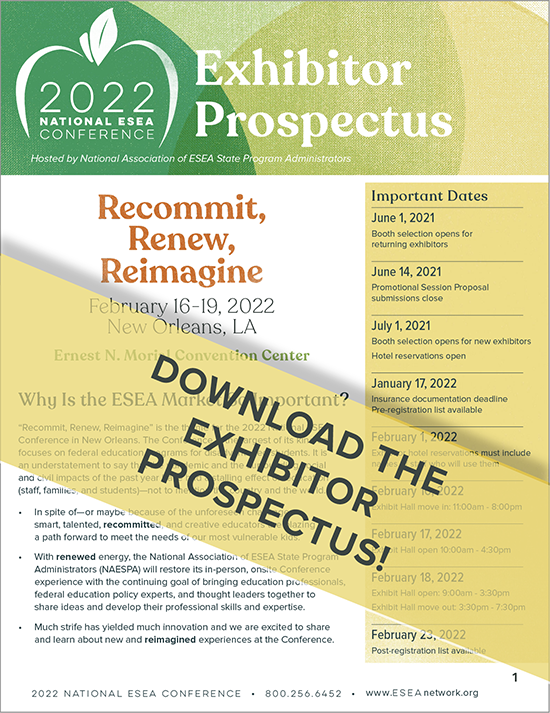 The Exhibitor Prospectus is your go-to guide for exhibiting at the 2022 National ESEA Conference.
Download it now!
Booth Map
A green square on the map below indicates which booths are still available. A red square is a booth that has already been purchased. Click on the booth you want to buy for more details, and then complete your purchase via your company account dashboard.

Single Booth = 10'x10' | Double Booth = 10'x20' | Triple Booth = 10'x30' | Quad Booth = 20'x20'
To view the available booths for the 2021 conference, visit this page on a phone in landscape mode, a tablet, or a laptop. The map lists all of the currently available booths and their prices.
All In-Person Booth Packages Include:
Black booth draping
Table, chairs and wastebasket, based on booth package
Conference App for collecting leads by scanning QR codes printed on attendee name badges. Information collected from scanned QR codes includes full contact information - including email addresses and phone numbers
500-character description of your company in the printed Conference program distributed to all attendees
Virtual Booth on ESEA Virtual Conference platform
Electronic list of pre-registered attendees available January 17, 2022 (includes name, title, organization, and mailing address only – no email addresses are included)
Final electronic registration list at conclusion of Conference available February 23, 2022 (includes name, title, organization, and mailing address only – no email addresses are included)
Opportunity to market your company to thousands of educators with buying authority
Listing in the ESEA Network Services Directory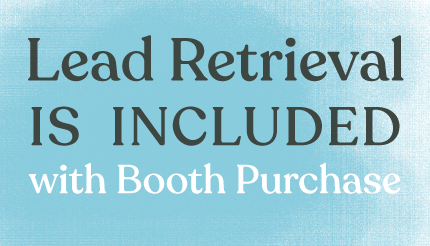 SPONSORSHIPS
Make the most of your time with us! View our sponsorship opportunities to further your reach!
LEARN MORE
Wednesday
February 16
Exhibitor Move-In
11:00am - 8:00pm
Thursday
February 17
Exhibit Hall Open
10:00am - 4:30pm

Dedicated Exhibit Hall Time
(and promotional sessions)
11:00am - 12:30pm
3:00pm - 4:30pm
Friday
February 18
Exhibit Hall Open
9:00am - 3:30pm

Dedicated Exhibit Hall Time
(and promotional sessions)
9:00am - 11:00am
2:30pm - 3:30pm

Exhibitor Move-Out
3:30pm - 7:30pm
"I really enjoyed walking around the exhibits. I was able to gather information that I thought would be helpful for my school and bring it home to share with others." - 2020 National ESEA Conference Attendee