Hotel Reservations Are CLOSED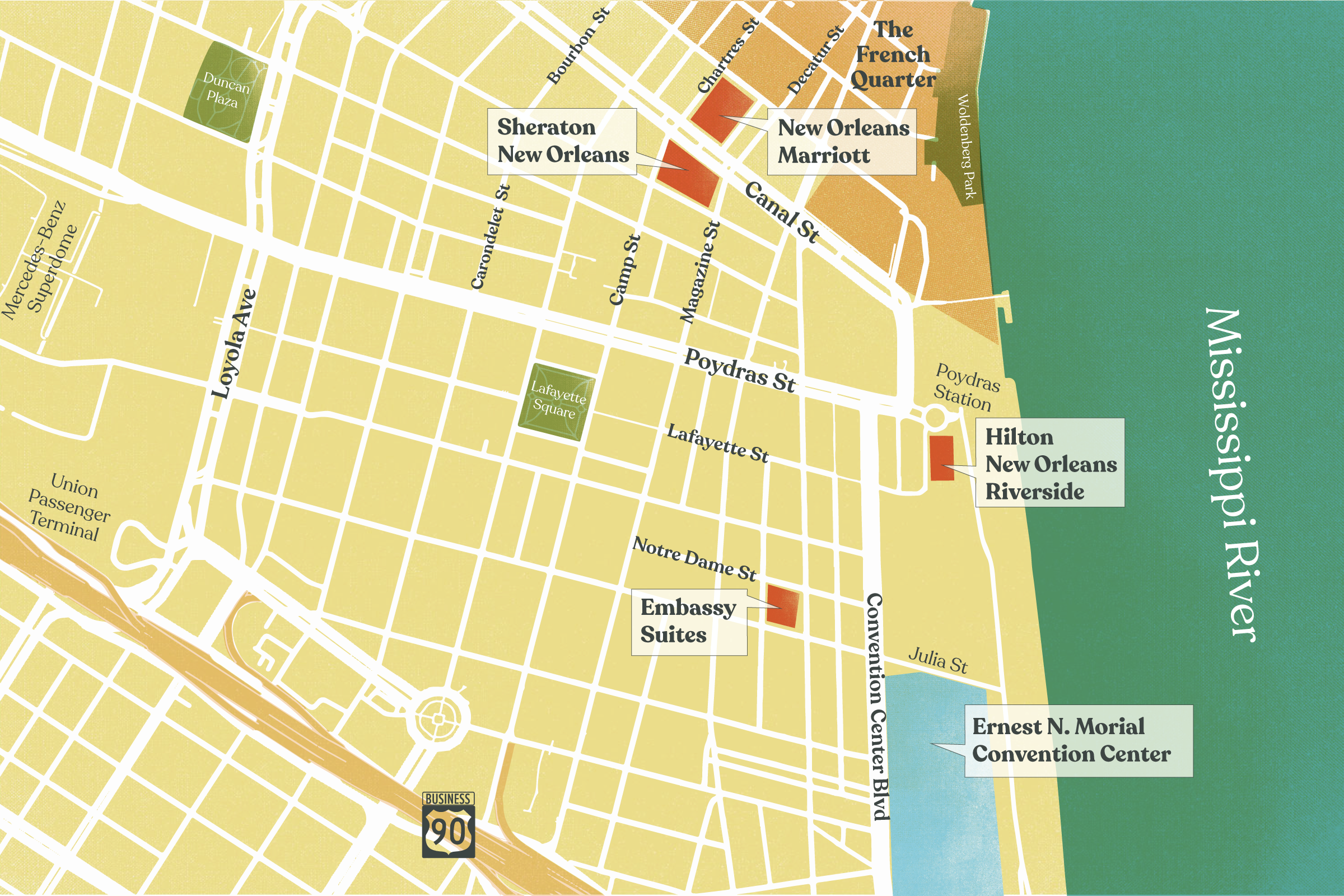 Conference Location: Ernest N. Morial Convention Center
900 Convention Center Blvd.; New Orleans, LA 70130

Please review the current public health and safety guidelines in New Orleans.

Four unique hotels are offered at special conference pricing for attendees and exhibitors.
Each hotel is a short distance to the Ernest N. Morial Convention Center.
New Orleans! This is a city you don't want to miss!
New Orleans is an eccentric and vibrant city that is home to many memorable attractions. The Conference is taking place in the heart of the city, giving attendees the chance to enjoy everything that New Orleans has to offer. Enhance your time in New Orleans by exploring the following attractions:
The French Quarter- Bourbon St
Harrah's Casino New Orleans
Live music on Frenchman Street
Mercedes-Benz Superdome- Home to the New Orleans Saints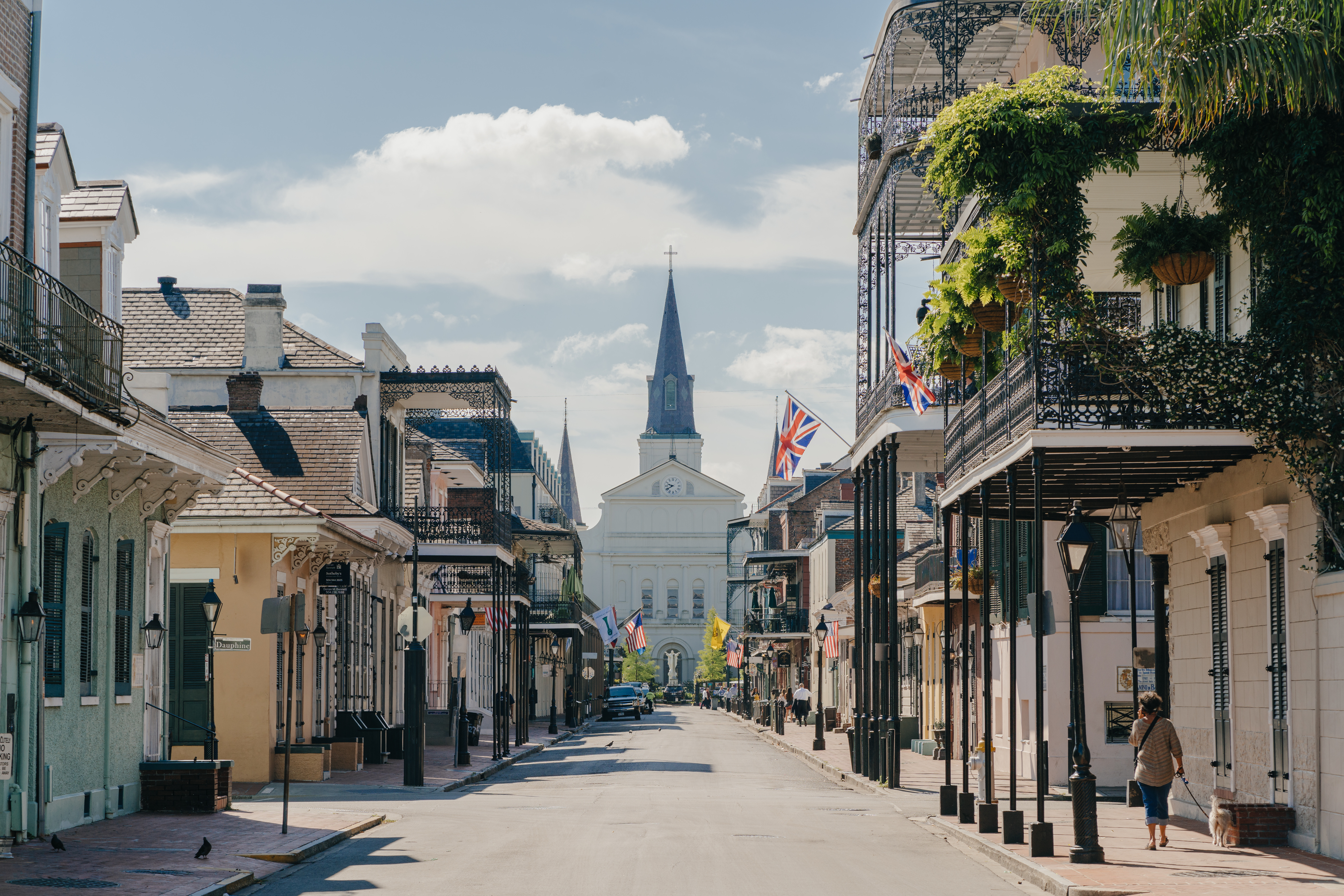 AIRPORT / GROUND TRANSPORTATION
The Louis Armstrong New Orleans International Airport (MSY) is located approximately 15 miles from the Ernest N. Morial Convention Center. There are several transportation options available including shuttles, taxis, bus, rail, and ride-share services such as Uber & Lyft.

Please refer to the Airport Ground Transportation page to view all the options.
AIRPORT SHUTTLE NEW ORLEANS
Shuttle service is available from the airport to hotels for $24.00 (per person, one-way) or $44.00 (per person, round-trip). You can purchase tickets at the Airport Shuttle ticket booth located on Level 1 Baggage Claim between Doors 3 and 4 or you may reserve your tickets here.
STREETCAR
Hop onboard a streetcar and ride on a piece of history! The city's historic streetcar line ensures visitors can easily explore all parts of the city. Visit www.norta.com/Getting-Around/OurStreetcars for fare, schedule, and safety information.
PARKING
Parking at the Ernest N. Morial Convention Center costs $20 for normal vehicles, $40 for oversized vehicles.
The Whale lot is closest to the Convention Center. No in/out privileges. Overnight parking is prohibited.
400 Calliope Street
New Orleans, LA 70130

Click Here to view a map of available parking. Download (.pdf)
Click here for truck marshaling details.
HOTEL CANCELLATIONS, CHANGES, AND REFUNDS
All hotel reservation cancellations require a completed Hotel Cancellation Form. Forms are also available in your account Dashboard. Please carefully review the cancellation policy to ensure you are aware of the timing and refunds available. The Conference cancellation policy applies to full reservation cancellations as well as each individual night cancelled when reducing a hotel stay. Cancellations are deemed eligible for a refund based on the date the cancellation form is submitted. Phone calls and emails are not acceptable forms of notification.
Changes to hotel reservations can only be accommodated through submission of the Hotel Reservation Adjustment Form. A reduction in the number of nights of a hotel stay is a cancellation of each reduced night and refund policies apply to any paid reservations. Hotel reservations may be moved from one Conference property to another at any time, subject to availability. A $35 change fee will apply to all reservation move requests received more than seven (7) calendar days after payment.


POSSIBLE FRAUD ADVISORY
HOTEL SCAM WARNING
Some companies exhibiting at the upcoming National ESEA Conference may be contacted by companies offering to provide rooms at Conference block hotels. These individuals are not affiliated in any way with the National ESEA Conference or Show Management.

Q: How did these people get my number?
A: Conference organizers do not give personal or company information to any outside group. However, anyone can review the list of exhibiting companies online and obtain contact information from your website.

Q: What if the offer sounds like a good deal?
A: Any participant at this event may purchase hotel reservations in any way that works best for the individual. Please keep in mind, however, that conference organizers will not be able to assist with any problems related to hotel reservations purchased outside of the official block.

Q: What are the risks of dealing with unknown companies to arrange hotel reservations?
A: Many disreputable companies collect credit card information and switch the reservation to a less desirable hotel just prior to check-in. Or, worse yet, they may sell credit card information on the black market. Providing credit card information over the telephone always entails risks.

Q: How can we reserve rooms in the official conference block?
A: No representative from the Conference will ever call to solicit hotel rooms. All hotel reservations within the official conference block are exclusively available through your Account Dashboard on this website.
CONTACT LIST SCAM WARNING
Some companies exhibiting at the upcoming National ESEA Conference may be contacted by companies offering to sell extensive contact lists of conference attendees. These individuals are not affiliated in any way with the National ESEA Conference or Show Management, Franklin Street Management. The Association does not sell contact information.