Registration and Hotel Reservations Are Open!
Join Us in New Orleans for an In-Person Experience!
We've all missed the irreplaceable opportunities that can only come from in-person networking - and we can't wait to be together again. The annual National ESEA Conference is coming to New Orleans in 2022! In addition to hearing from renowned educational experts on stage, you will have multiple options to interact with presenters and your colleagues, as well as learn about new products and services to implement at your state, district, or school.

The health and safety of all Conference participants is our highest priority, and we remain committed to following guidance from public health officials and adhering to local public health mandates as we prepare to gather in New Orleans. This guidance continues to evolve along with local conditions. At this time, proof of vaccination or a negative PCR test, and a face mask is required to access all indoor event spaces and restaurants in New Orleans. Though these guidelines may be updated before the Conference in February, informal discussions with local contacts suggest a strong likelihood that these or similar requirements will remain in place into 2022. We recommend all Conference participants review the current COVID-19 guidelines published by the City of New Orleans, and ensure they are able to adhere to these or similar guidelines before making travel or lodging arrangements.
Virtual Registration Option
We hope you will join us in New Orleans - but we recognize that travel restrictions or other factors may prevent some from attending the Conference in-person. If this applies to you, don't worry - you can still be a part of the action! We are pleased to announce a virtual registration option - which allows you to participate in live sessions, access the same great content, and interact with your colleagues - both those in New Orleans and those joining from home. Last year's virtual Conference was a resounding success and we're excited to combine the virtual and in-person audiences into the first-ever hybrid National ESEA Conference!
Over 100 Sessions
Over one hundred sessions and five exceptional keynote presentations are scheduled for the event, along with time to network with colleagues from across the nation.
CEU Option
Attendees may earn one graduate-level extension credit for attending a majority of Conference sessions. First, register for the Conference, then enroll here through the University of San Diego.
(Extra $75 fee applies, enrollment closes March 31, 2022.)
Book Study Opportunity
We're pleased to offer 150 attendees the option to participate in a series of webinars facilitated by keynote speakers, William Parrett and Kathleen Budge. Visit the Book Study page to learn more about this special offer and how you can earn a CEU for participating.
CONNECT WITH US ON SOCIAL MEDIA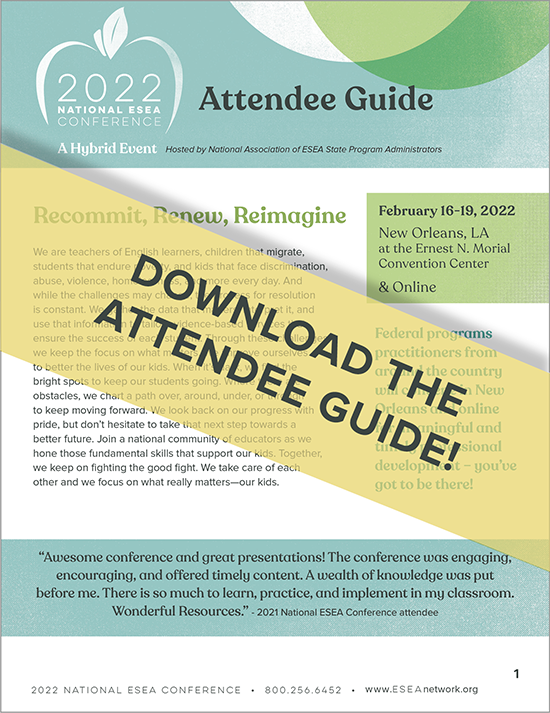 The Attendee Guide has all the information you'll need to attend the 2022 National ESEA Conference. DOWNLOAD IT NOW!
Registration
Types & Prices
INDIVIDUAL REGISTRATION
In-Person & Virtual
$599 – EARLY BIRD PRICE
Available July 1 - December 31, 2021
$659 - STANDARD PRICE
Starting January 1, 2022
GROUP REGISTRATION
10 or more people
$559/each
July 1 - December 31
No Group Packages available after December 31

Group Registration FAQs
The National ESEA Conference includes two full days of exhibits inside the Exhibit Hall and many Conference sessions presented by exhibitors. Be sure to carve out some time on Thursday and Friday to get acquainted with exhibiting organizations and learn about their products and services.
Thursday
February 17
Exhibit Hall Open
10:00am - 4:30pm

Dedicated Exhibit Hall Time
(and promotional sessions)
11:00am - 12:30pm
3:00pm - 4:30pm
Friday
February 18
Exhibit Hall Open
9:00am - 3:30pm

Dedicated Exhibit Hall Time
(and promotional sessions)
9:00am - 11:00am
2:30pm - 3:30pm
"I really enjoyed walking around the exhibits. I was able to gather information that I thought would be helpful for my school and bring it home to share with others." - 2020 National ESEA Conference Attendee