PROPOSAL SUBMISSIONS CLOSED

Sessions Have Been Selected and Presenters Have Been Notified
Thank you to all who submitted proposals for the 2023 National ESEA Conference. Altogether, nearly 400 proposals were received by the June 16 deadline. Proposals then entered the competitive grading process, with finalists moving on to a second-level review and final selection by the Conference Planning Committee in August. All proposal submitters have been notified via email whether their submission has been accepted or declined as of September 7th. We appreciate all the effort put into these submissions and look forward to working with you!
Did You Miss the Deadline? Look Ahead to 2024!
Proposal submissions for the 2023 Conference in Indianapolis were open May 2 - June 16. If you missed the deadline, don't fret! Please mark your calendar now for the 2024 National ESEA Conference in Portland, Oregon, February 7-10, 2024. Proposal submissions will open in the spring of 2023. Your voice matters. We wholeheartedly encourage you to submit a proposal for 2024 and hope you will extend invitations to colleagues.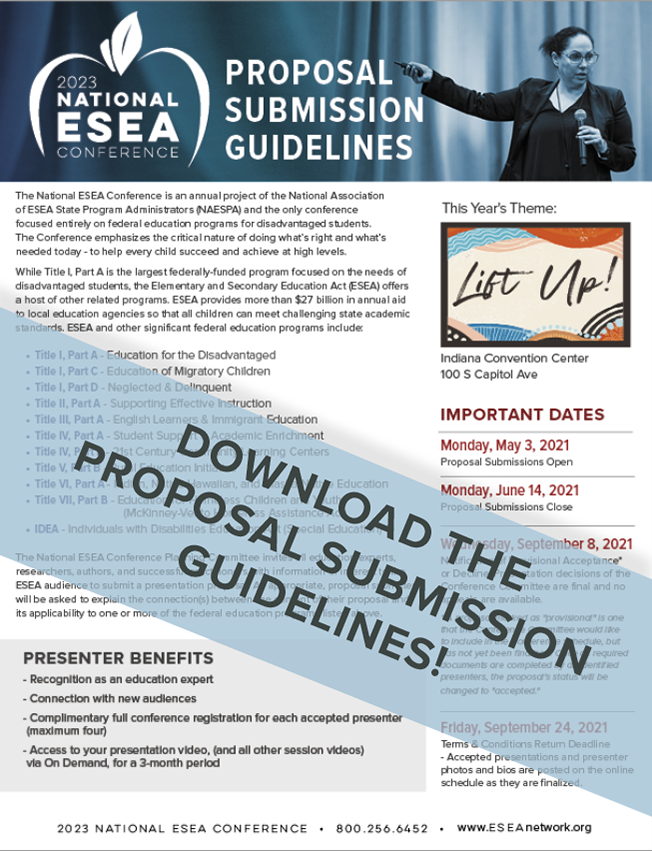 The Proposal Guidelines outline everything you need to know about presenting at the 2023 National ESEA Conference. Download it now!