Registration and Hotel Reservations Open Now
Join Us in Indianapolis or Online
The annual National ESEA Conference is coming to Indianapolis, February 1-4, 2023. In addition to hearing from renowned educational experts on stage, you will have multiple engagement opportunities with presenters, colleagues, and exhibitors, as well as learn about the latest developments in education - from your local school, district, state, and federal level. For the second year, the National ESEA Conference is a hybrid event, allowing you to engage with peers in-person or virtually.
Over 100 Sessions
Over one hundred sessions and outstanding keynote presentations are scheduled for the event, along with ample time for networking.
Continuing Education
Attendees have the opportunity to earn up to two graduate-level extension credits (GLECs) for attending a majority of Conference sessions. Once registered for the Conference, enroll here through the University of San Diego. (Extra $79 fee per credit applies, enrollment open now through March 31, 2023.)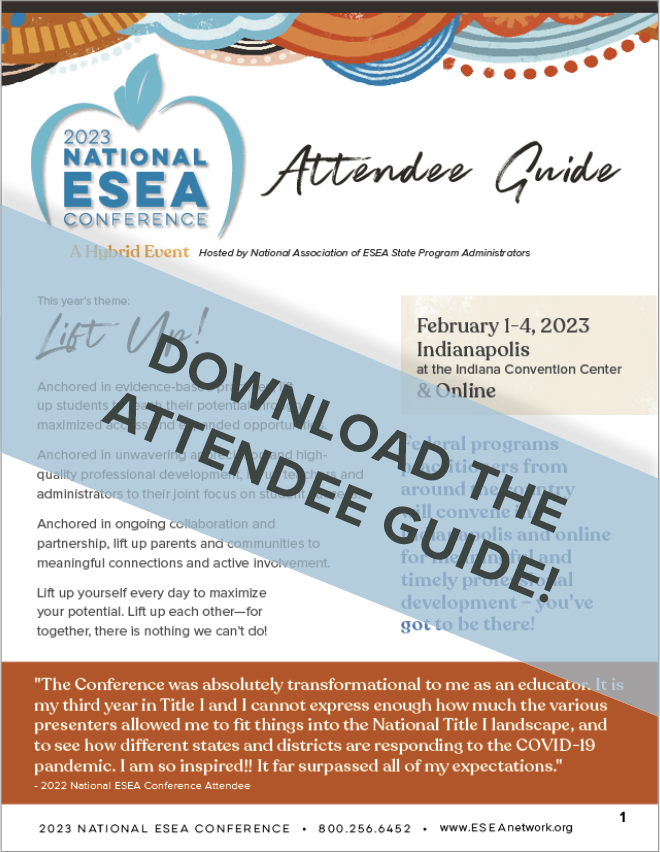 The Attendee Guide has all the information you'll need to attend the 2023 National ESEA Conference. DOWNLOAD IT NOW!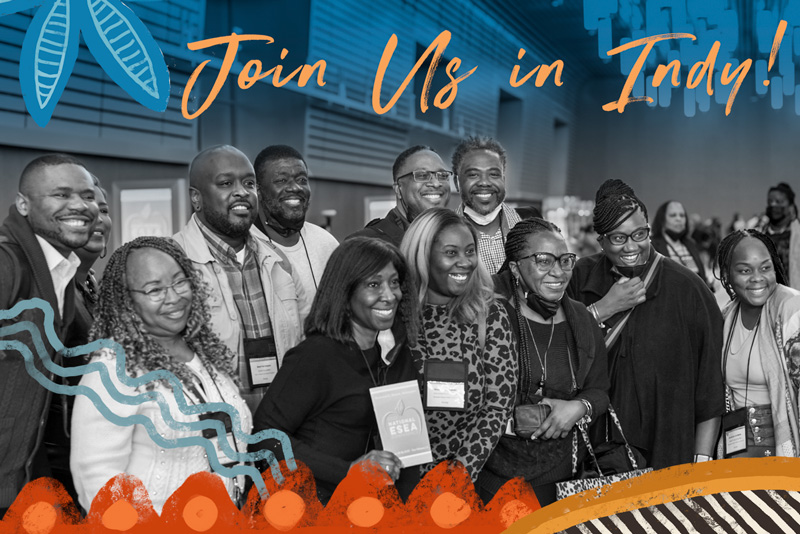 Registration
Types & Prices
INDIVIDUAL REGISTRATION
In-Person & Virtual
$629 – EARLY BIRD PRICE
Available June 1 - December 31, 2022
$699 - STANDARD PRICE
Starting January 1, 2023
Download the Attendee Guide for More Information
NOTE: If paying by check, the check must be received no later than January 27, 2023.
GROUP REGISTRATION
10 or more people
$589/each
June 1 - November 30
No Group Packages available after November 30

Group Registration FAQs
The National ESEA Conference includes two full days of exhibits inside the Exhibit Hall and many Conference sessions presented by exhibitors. Be sure to carve out some time on Wednesday and Thursday to get acquainted with exhibiting organizations and learn about their products and services.
Thursday
February 2
Exhibit Hall Open
10:30am - 5:00pm

Dedicated Exhibit Hall Time
11:00am - 12:30pm

Promotional Sessions
12:30pm - 2:00pm
Friday
February 3
Exhibit Hall Open
9:00am - 3:00pm

Promotional Sessions
11:00am - 1:00pm
"The Conference was absolutely transformational to me as an educator. It is my third year in Title I and I cannot express enough how much the various presenters allowed me to fit things into the national Title I landscape, and to see how different states and districts are responding to the covid-19 pandemic. I am so inspired!! It far surpassed all of my expectations."
- 2022 National ESEA Conference Attendee