Conference Location: Indiana Convention Center
100 S Capitol Ave; Indianapolis, IN 46225

Six unique hotels are offered at special conference pricing for attendees and exhibitors.
Each hotel is a short distance to the Indiana Convention Center and linked by an indoor skybridge.
Join Us in Indy!
Indianapolis is an flourishing city, filled with memorable attractions and historic architecture – perfect for plenty of photo ops! The compact and tourist-friendly downtown is easily walkable, allowing visitors to explore the eclectic neighborhoods, live music venues, and award-winning culinary and brewing scenes.

Boasting the world's largest children's museum, Indianapolis has something for everyone. Enjoy shopping at the Circle Centre Mall right in downtown. Pins Mechanical is open until midnight and offers duck pin bowling, giant Jenga, and more. Newfields, the 152-acre museum of art, showcases 54,000 works with seasonal exhibition changes. The LUME features an immersive digital exhibit highlighting the prestigious artworks of Claude Monet. Head to the largest bouldering facility in the country at North Mass Boulder, book an evening class with Indy Fused Glass, schedule a tasting experience with SoChatti's dairy-free chocolate tasting bar, or try your hand at Fowling – all within steps from each other. We hope that whatever you choose to do with your evenings in Indianapolis, you have an enjoyable time!
Activities open after 5pm in Indy:


Newfields (11AM-8PM)
Museum of 20th Century Warfare (10AM-6PM)
Soldiers & Sailors Monument (10:30AM-5:30PM)
Children's Museum- Museum by Moonlight Events (21+, select nights in 2023)
Living Room Theatre
Kan-Kan Cinema, Bar and Brasserie
North Mass Boulder
Fowling Warehouse
Indy Fused Glass
HiFi Lounge (check events calendar)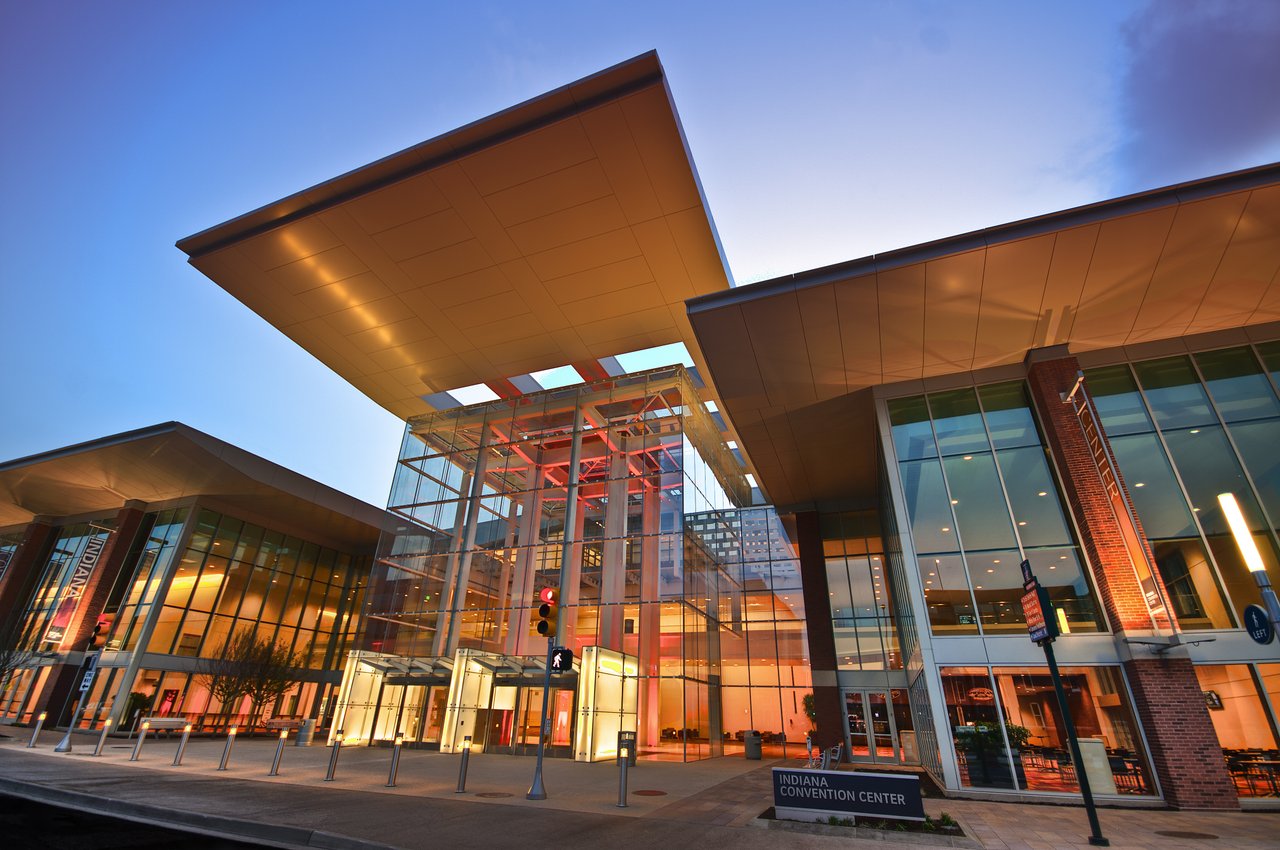 Airport/Ground Transportation
Indianapolis International Airport's Ground Transportation Center, located on the first floor of the Terminal Garage, offers connection to bus service, car rental, taxi service, Uber & Lyft, BlueIndy, hotel courtesy vehicles, and limousines. Curbside taxicab service is available just outside Baggage Claim.
Parking
There is ample parking in Downtown Indianapolis, including for persons with disabilities. Denison Parking operates all Indiana Convention Center parking lots. For more information on parking, maps and directions, skywalks, transportation, local attractions, and dining guides, visit the Indiana Convention Center website.




Hotel Policies: Cancellations, Changes and Refunds
All hotel reservation cancellations require a completed Hotel Cancellation Form. Forms are also available in your account Dashboard. Please carefully review the cancellation policy to ensure you are aware of the timing and refunds available. The Conference cancellation policy applies to full reservation cancellations as well as each individual night cancelled when reducing a hotel stay. Cancellations are deemed eligible for a refund based on the date the cancellation form is submitted. Phone calls and emails are not acceptable forms of notification.
Changes to hotel reservations can only be accommodated through submission of the Hotel Reservation Adjustment Form. A reduction in the number of nights of a hotel stay is a cancellation of each reduced night and refund policies apply to any paid reservations. Hotel reservations may be moved from one Conference property to another at any time, subject to availability. A $35 change fee will apply to all reservation move requests received more than seven (7) calendar days after payment. Refunds are granted for all attendee purchases, including registration, based on the following sliding scale:
| Cancellation Received | Amount Refunded |
| --- | --- |
| Within 7 days of purchase | 100% Refund - Buyer's Remorse |
| June 1, 2022 - October 3, 2022 | 90% Refund |
| October 4, 2022 - November 3, 2022 | 75% Refund |
| November 4, 2022 - December 3, 2022 | 50% Refund |
| December 4, 2022 - February 4, 2023 | No Refund |
POSSIBLE FRAUD ADVISORY
HOTEL SCAM WARNING
Some companies exhibiting at the upcoming National ESEA Conference may be contacted by companies offering to provide rooms at Conference block hotels. These individuals are not affiliated in any way with the National ESEA Conference or Show Management.
Q: How did these people get my number?
A: Conference organizers do not give personal or company information to any outside group. However, anyone can review the list of exhibiting companies online and obtain contact information from your website.

Q: What if the offer sounds like a good deal?
A: Any participant at this event may purchase hotel reservations in any way that works best for the individual. Please keep in mind, however, that conference organizers will not be able to assist with any problems related to hotel reservations purchased outside of the official block.

Q: What are the risks of dealing with unknown companies to arrange hotel reservations?
A: Many disreputable companies collect credit card information and switch the reservation to a less desirable hotel just prior to check-in. Or, worse yet, they may sell credit card information on the black market. Providing credit card information over the telephone always entails risks.

Q: How can we reserve rooms in the official conference block?
A: No representative from the Conference will ever call to solicit hotel rooms. All hotel reservations within the official conference block are exclusively available through your Account Dashboard on this website.
CONTACT LIST SCAM WARNING
Some companies exhibiting at the upcoming National ESEA Conference may be contacted by companies offering to sell extensive contact lists of conference attendees. These individuals are not affiliated in any way with the National ESEA Conference or Show Management, Franklin Street Management. The Association does not sell contact information.