Projects & Events
Webinar April 3--CONGRESS AND COVID-19: What passed and what comes next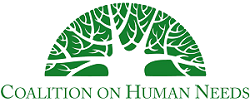 A full recording and slides will be sent to all registrants, so register even if you can't be on during the live presentation.
Learn about the historic $2.3 trillion relief and recovery legislation enacted by Congress, and how it responds to the massive public health and economic crisis caused by the COVID-19 pandemic.
The legislation enacted so far takes some important steps towards protecting people and shoring up the economy. But it does not do enough, and Congress will have to return to ensure that the people most in need get adequate help. Advocates and service providers nationwide need this information!
Join CHN as we examine the good and the bad of what's available so far, and the human needs that still must be addressed in a fourth package. We'll discuss cash assistance, expanded benefits, help for nonprofits, and new programs such as Pandemic Unemployment Assistance. And we'll let you know how you can take action to call on Congress to take the next steps needed.
NOTE: We are experiencing technical issues. If you get an error message when you try to sign up, use this form to get a streaming copy of the webinar the week of the 6th.
If you have already signed up for the webinar, there is no need to take any action.
Presenters:
Jared Bernstein, Senior Fellow, Center on Budget and Policy Priorities
Judy Conti, Government Affairs Director, National Employment Law Project
Michelle McGrain, Federal Affairs Manager, National Partnership for Women & Families
Deborah Weinstein, Executive Director, Coalition on Human Needs
This webinar will be close-captioned. Due to technical limitations, we are limited in the number of registrants we can receive. If you have issues with using the alternate form, please contact Nicolai Haddal to ensure you receive a recording: nhaddal@chn.org
Coalition on Human Needs
www.chn.org