Policy
Rulemaking Committee Struggles to Reach Consensus on ESSA Regs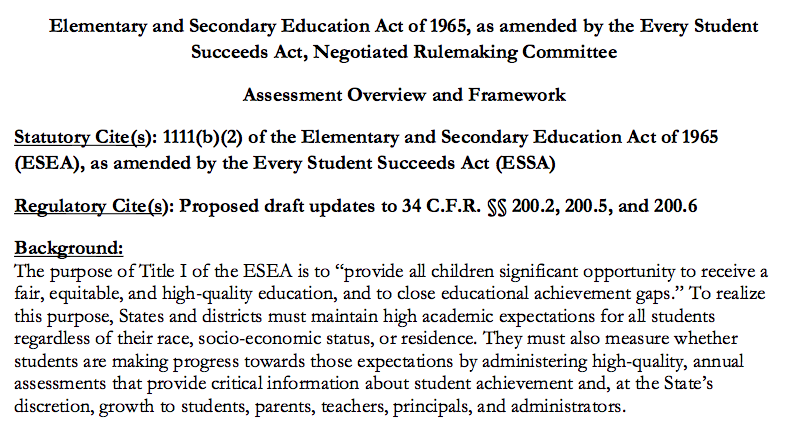 In the second of three scheduled sessions, negotiators met in Washington, D.C. this week to discuss draft regulations on the Every Student Succeeds Act (ESSA). By law, the U.S. Department of Education (ED) is required to convene a Negotiated Rulemaking Committee which must attempt to reach consensus on two broad areas of the law: requirements surrounding assessments, and the amended supplement, not supplant provision.
Following the first session at the end of March, ED released draft regulatory language for discussion in the next meeting this week. But that language drew criticism from many advocates and members of Congress for its prescriptiveness. In a letter sent to U.S. Secretary of Education John King earlier this week, a number of advocacy groups urged the agency to back away from adding too many requirements through regulation. The groups were particularly focused on the draft regulation surrounding the supplement, not supplant requirement. That draft would require a methodology that results in the local educational agency spending the same amount or more per pupil in Title I schools as in non-Title I schools, that each Title I school to receive as great or greater a share of districtwide costs or services than non-Title I schools, and that every school to provide a "basic educational program as defined under State or local law." Many have expressed concern that this language could be interpreted as forcing review of actual expenditures, including teacher salaries – which may run counter to Congressional intent – and could open the door to lawsuits at the State level.
Discussion of supplement-not-supplant at the rulemaking session on Friday was equally divisive – some observers noted that the States and districts who would be impacted by the changes were reluctant to modify their systems to comply, while others said they thought the proposed regulations went beyond the scope of the provision and requirement they were intended to explain.
The groups' letter said that "equity is important and is addressed throughout ESSA," but that the proposed regulations would create new requirements outside the scope of the law – and therefore inconsistent with ESSA. "Additional context," the letter says, "should be provided through technical assistance and guidance" rather than through regulation. That letter was signed by the National Governors Association, the Council of Chief State School Officers, the National Education Association, the American Federation of Teachers, AASA the School Superintendents Association, the National Association of State Boards of Education, the National School Boards Association, the National Conference of State Legislatures, and the National Association of Elementary School Principals.
The committee also discussed a number of issues with respect to assessments. Negotiators debated whether it is fair to ask States to ensure equitable access to advanced courses, and when States must offer assessments in a language other than English to English learners. In addition, they spent much of Thursday trying to decide how to regulate the law's limitation on alternate assessments. ESSA allows States to use alternate assessments for 1% of students, those with the most significant cognitive disabilities. Negotiators debated whether to define the kind of disability which would qualify, as well as what would happen when a State wants to exceed the 1% cap. Though ESSA makes that requirement explicitly subject to waiver, ED proposed language which would place requirements on States that want waivers, including that States demonstrate they did not assess a disproportionate number of children in a particular subgroup using alternate assessments. Several negotiators objected to the proposal, saying that it ran contrary to the ESSA, which says explicitly that ED may not place conditions on the approval of waivers.
Given the controversial nature of many of the proposed regulations, it is highly likely that the committee will reconvene for its third optional rulemaking session later this month.
The draft regulations being discussed by the rulemaking committee are available here.
Resources:
Alyson Klein, "Groups to Ed. Department: Don't Go Too Far in Regulating Spending Requirements," Education Week: Politics K-12, April 4th, 2016.
Alyson Klein, "ESSA Negotiators Talk Rules for Math Tests, ELLs, but Not Sticky Spending Issues," Education Week: Politics K-12, April 6th, 2016.
Christina Samuels, "ESSA Panel Weighs Rules for Testing for Those with Severe Cognitive Disabilities," Education Week: On Special Education, March 25, 2016.