Policy
ED Releases Updated Supplement-not-Supplant Draft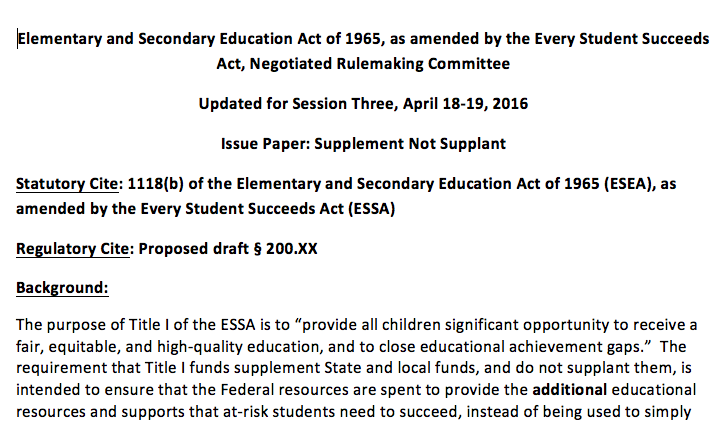 This afternoon the U.S. Department of Education (ED) released draft regulations for discussion in the third and final negotiated rulemaking session on the Every Student Succeeds Act (ESSA). The revised draft attempts to address some of the concerns expressed by negotiators, advocates, and lawmakers regarding the earlier version and provide districts with more flexibility.
The new draft eliminates language requiring "basic educational programs," as well as the references to State and local funds providing services required by law to students with disabilities and English language learners in conjunction with federal aid. Some had argued that these provisions would open States and districts up to lawsuits.
In addition, the updated draft allows LEAs to use budget systems that do not rely on per-pupil expenditures but instead use alternatives like weighted student formulas. Finally, some changes were made to the compliance requirements. A State that could not meet the test which requires that Title I schools receive as much or more per-pupil funding as non-Title I schools would not be considered in violation unless it failed to meet that requirement twice in a four-year period. Finally, a district would be able to rebut a finding that its methodology was not compliant, particularly where non-Title I schools serve a high proportion of English learners or students with disabilities.
Still, this new draft does not address one of the major concerns that stakeholders had with the earlier version – namely, the use of per-pupil expenditure tests. Negotiators must come to a consensus in order for the Committee to produce a rule.
The new draft regulations are available here.
Resources:
Alyson Klein and Andrew Ujifusa, "Education Department Releases Revised ESSA Rules Proposal," Politics K-12, April 15th, 2016.