News From Others
Education Week Article: Here's How the Education World Thinks the Feds Should Regulate Under ESSA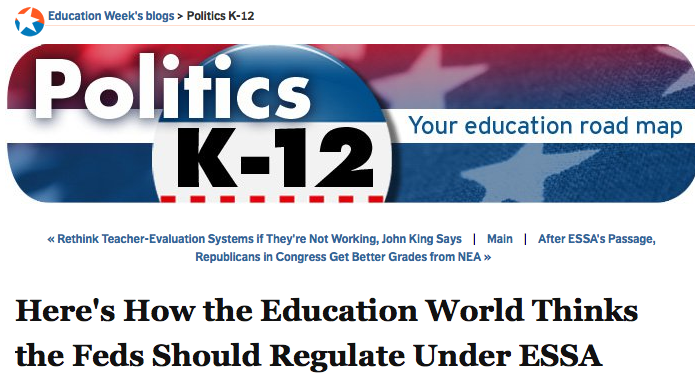 How should the U.S. Department of Education regulate under the Every Student Succeeds Act? People got a chance to share their thoughts with the department face-to-face during two hearings this month. But the public also got a chance to submit public comments on the Internet. The comment period for those submissions just closed Thursday. And as of about 6 p.m. that day, there were more than 200 comments filed.
So what were some of the highlights? You probably won't be surprised to learn that accountability took up a lot of the oxygen in the comments. And testing issues like...
To learn more, click here.
[NOTE: Click on the link above in order to connect to the full article in Education Week. The entire article is not posted here due to excessive cost and copyright restrictions, but you can access the entire text via Education Week based on either a limited free trial or your own subscription. FYI: NASTID's recommendations for negotiated rulemaking topics are quoted in the article.]