News From Others
Committee for Education Funding Update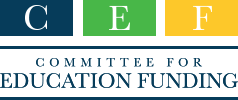 Tuesday, January 23, 2018
Dear CEF Members:
I. Continuing resolutions cut FY 2017 education funding
Because the sequester-level cap for non-defense discretionary spending for fiscal year (FY) 2018 is lower than the cap for FY 2017, Congress applied a small (0.6791 percent) across-the-board cut to all funding in the four continuing resolutions enacted to keep the government running. As most education programs will not get their FY 2018 funding until July – they are "forward funded" so will use their FY 2018 funding for the 2018-2019 school year – these cuts are not affecting those programs yet. (I think it is likely that when Congress makes a deal to raise the spending caps and enacts full-year funding at those new levels, the legislation will nullify the current across-the-board cuts.)
However, the cuts have the unexpected effect of cutting FY 2017 funding for the four education programs that receive advanced funding –programs whose FY 2017 level is a combination of funding from both FY 2017 and FY 2018 that were both included in the FY 2017 funding bill. Those programs are:
Title I (grants to local educational agencies), cut from $15.460 billion to $15.386 billion as a result of the across-the-board cut in the CR
Title II (supporting effective instruction state grants), cut from $2.056 billion to $2.044 billion
IDEA (special education grants to states), cut from $12.003 billion to $11.940 billion, and
Career and technical education, cut from a total of $1.125 billion to $1.117 billion
As a result of the CRs' across-the-board cut to the advance funding, funding for the fiscal year already ended has been lowered by a total of $153 million compared with what it was in September (totals listed above do not add exactly due to rounding). See the attached table for updated levels for those programs and the Department of Education total for FY 2017. Of course, changing the FY 2017 total also changes the size of the funding cuts in comparisons with the various FY 2018 proposals.
We'll be updating this table again after the President's FY 2019 budget request is released, which is still anticipated to be the week of February 5, and whenever final FY 2018 funding is enacted.
Sarah Abernathy, Deputy Executive Director
1800 M Street, NW
Suite 500 South
Washington, DC 20036
T: 202-327-8125
Twitter @edfunding